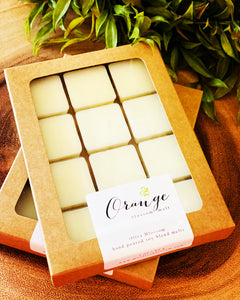 ORANGE BLOSSOM
A balanced floral blend that is sweet, delicate and fresh. An unexpected combination   of orange blossom flowers and a little orange citrus twist.
Top | Bergamot, Petitgrain
Middle | Orange Blossom, Neroli, Lily
Base | Sandalwood
BLOSSOM MELTS OVERVIEW
Melts are a great flameless option to fragrance your home. Put one to two of the wax melt cubes in your wax melter to fill your space with your favorite scents.
Every Blossom melt is made with a premium soy blend wax and pthalate-free fragrance oils that we selectively picked and blended for you.
Each pack includes 12 individual melts that are packaged in a kraft paper box.
Approximate Burn Time: At 1-2 cubes per use, this pack of melts should last around 60 hours of use.
Weight: 3 ounces
INGREDIENTS

Premium soy blend wax, phthalate-free fragrance oils